Regular price
Sale price
$54.99 USD
Unit price
per
Sale
Sold out
Notes
Blood.
Description
This unique layering accord reeks pungently of realistic, fresh blood.
Notes: Blood, Iron & Copper
From The Perfumer
"[For some reason], I enjoy strong scents that 'normal people' turn their nose at. Civet, castoreum, bodily fluids.. they're all fascinating to me. So, when I kept seeing that a real "blood scented" fragrance didn't really exist, I set out to create one. It took a long time, but I'm proud of how realistic I was able to make the blood accord."
Additional Information
Accords are intended to be used for layering, although their individual use could be applicable for costuming, cosplay or LARP.

The Parfum comes in a spray vial, the Perfume Oil comes in a roller vial, and all orders arrive in a gift-able box. The Alchemist utilizes professional fragrance ingredients & raw aromatics to create unique, high quality, small-batch perfumes by hand.
What is Parfum? Pafum is the most pure and highest quality of fragrance types. Parfum scents typically last up to 6-8hrs and are best for your skin with the least amount of alcohol and highest concentration of fragrance oils (15% - 40%). NOTE: International Shipping is available for Perfume Oils only. Why Perfume Oil? Perfume Oil is a more intimate, natural, and subtle carrier choice. Holding fragrance closer to the skin, perfume oil evaporates scent layers at slower and more uniform rates. The Organic Jojoba oil used in our Perfume Oil promotes healthy skin with the same pure, high-quality concentration of fragrance oils as our Parfum (15% - 40%). Other Types of Fragrances: - Eau de Parfum (EDP) 15% - 20% (4-5hrs or less) - Eau de Toilette (EDT) 5% - 15% (2-3hrs or less) - Eau de Cologne 2% - 4% (2hrs or less) - Eau Fraiche 1% - 3% (2hrs or less) Scent Concept photography by Catalina Morales Product photography & graphics by Pixxi with Redwood Alchemy ALLERGY ALERT: These products were created in a facility that uses concentrated natural plant ingredients and may cause reactions in people with plant related allergies. Before using any new product you should perform a patch test for reactions or sensitivities. For external use only.
Our Bottles: 10ml bottles are travel size bottles with a label and come in a wax sealed box. 30ml full size usually come with full artwork.
Share
View full details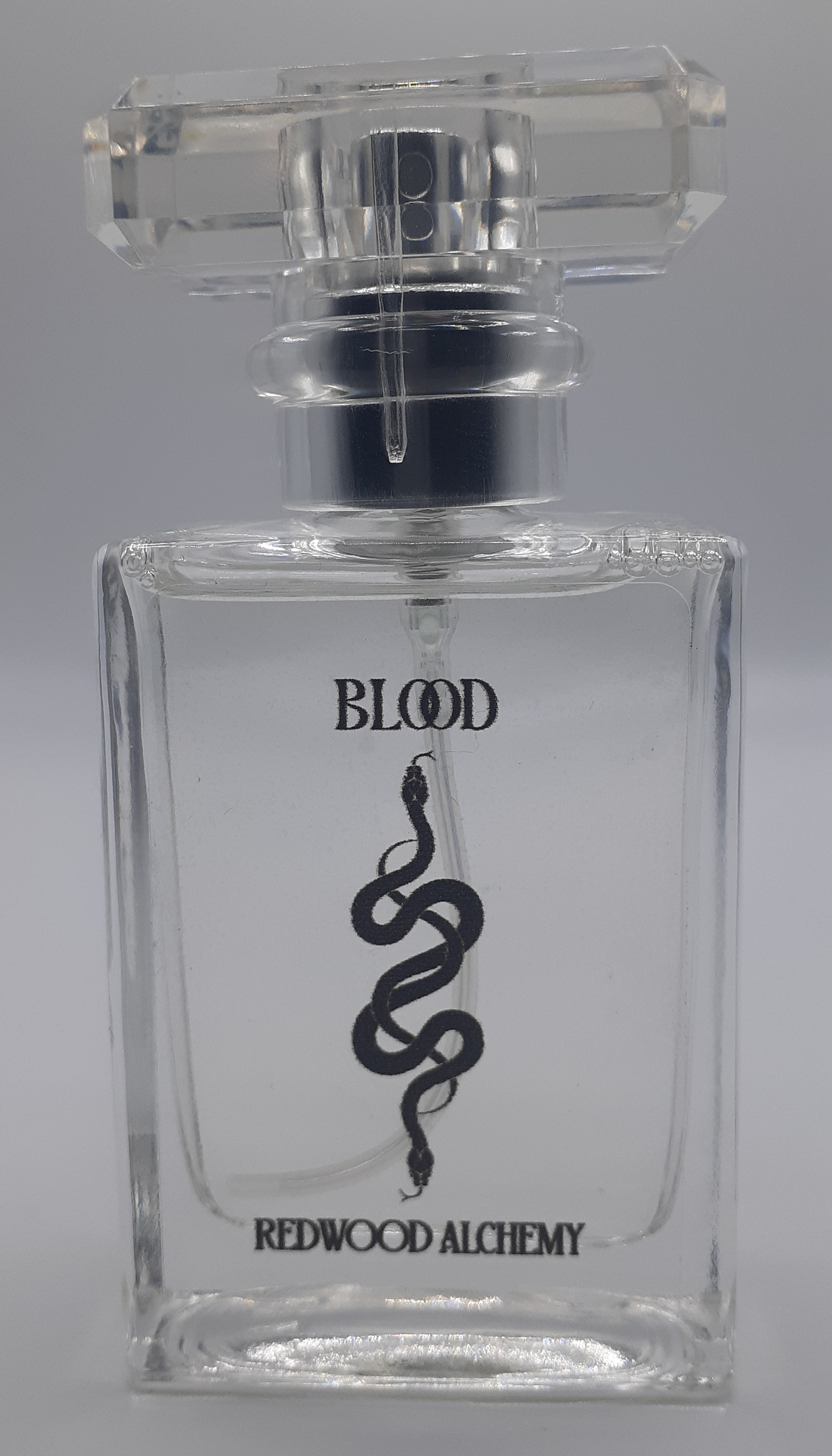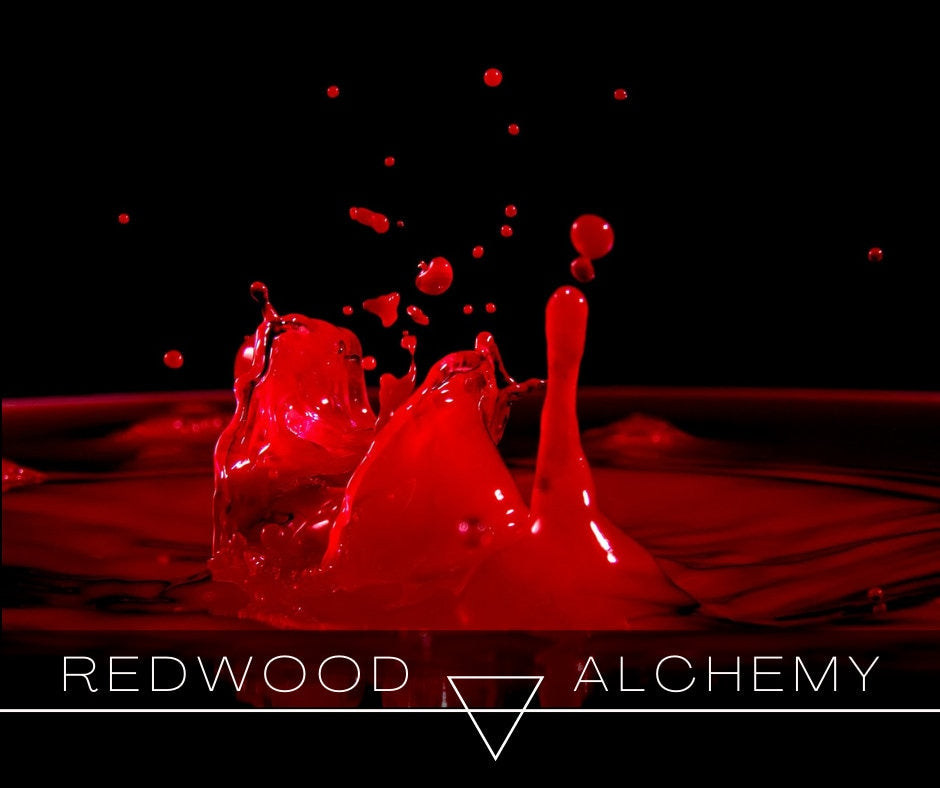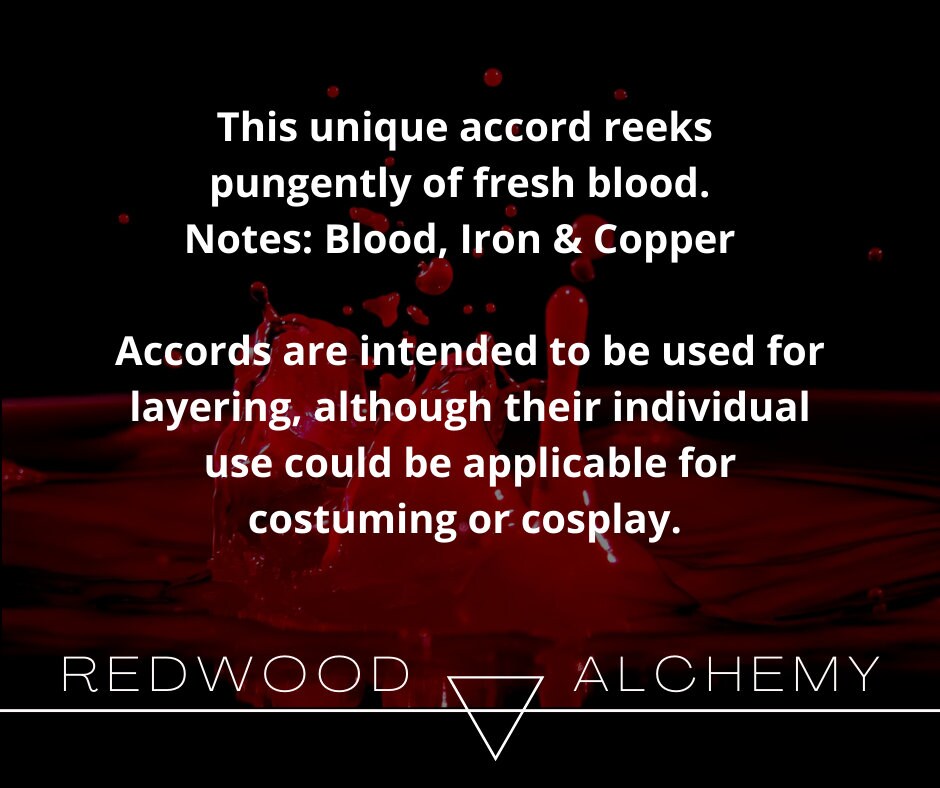 Unexpectedly good
took a while to ship but was totally worth the wait. As soon as I opened the package I could immediately smell it, I thought some of the reviews I've seen online were joking about how strong it was, but a wave a nausea hit me at first off the bat and kinda gagged here and there. Its such a strong pungent scent, and a little sweet / coppery / metallic overall just a very queasy feeling in your stomach kick scent, don't really know how I feel about it but definitely letting it rest for a while. I don't wear it too often because of how strong it is, but if you're looking for something that smells like blood for all you vampiric lovers and just in general, Id say this one would be for you. Just keep in mind of how potent it is and I'd recommend the slightest spray as it lasts a long while. Also recieved a little tarot note and the little bottle.
Shipping
It took a long wait for shipping, but considering it's a solo operation I'm happy.
True blood 🧛🏻‍♀️🦇
Perfect fragrance for Vampires I really love this... great quality and also the sample add-on is really good....I hope this brand can be more growing up and maybe also coming to Europe....
"BLOOD"
The fragrance I bought was beautifully packaged and to my surprise was another small bottle. Though ide also like to mention the exquisitely made note of my tarot. Highly recommend and will buy from again.
The darkest reaches of the scent imagination
I could honestly wax beautiful sinister poetry and odes all night about and to this gem but short and sweet- You want unique and out of the box of anything you could expect, here it is! The truest smelling blood accord I have found in the indie world and it layers marvellously well with all my fiendish-themed perfumes; now that's scent sorcery!